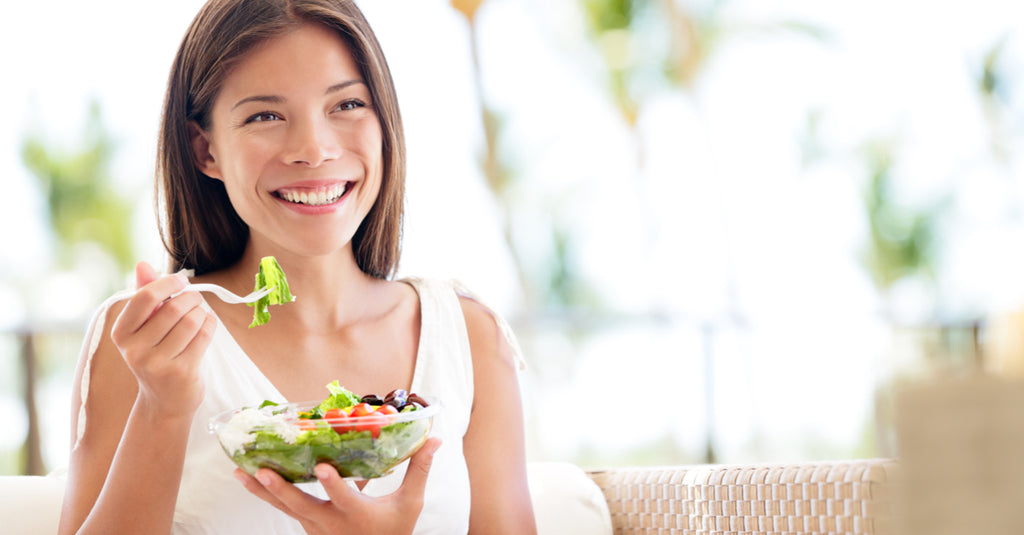 Eating healthy is, for the most part, a dinner thing. Yes, your breakfast should be nutritious, but you've got more leeway for fats and carbs on your breakfast than you do for dinner, since you'll be burning calories throughout your day and most of it will come from breakfast. So it's ok to over-do-it a little bit.
Dinner, however, is very different. Having sorted through the hardships of a long hard day, dinner will ask of you that you conduct yourself with discipline and rigor. Some playful, sexy part of you might be thinking "pizza!". Well, you look into a mirror and you stare that side of yourself down and shout "behave!". That's what you do.
Pizza, on occasion, isn't that bad at all. It's all about what goes into your pizza, but let's leave that aside for another time. We're going off-topic.
Take dinner time as an opportunity to relax; from the moment you open the fridge and see the potential offered by everything in it, to the final bite. It's all one moment. Make it yours.
Alright, you've decided to do this. Now you need direction. You need options, so here they are: 5 Healthy Recipes for Dinner
1. Basic & Versatile Healthy Recipe
Ingredients:
1 Cut of Non-Red Meat
1 Tomato
1/4 Onion Piece
Handful of Lettuce Leaves
Handful of Spinach Leaves
4 tablespoons of Olive Oil
1 tablespoon of Balsamic Vinegar
Find yourself some non-red meat protein. Be it chicken, salmon, tuna, turkey, that's your call.
Chop some onions and tomatoes. Add salt and pepper to taste to the meaty protein of choice. Pour about 1 or 2 tablespoons of olive oil onto a pan. Heat up said pan (medium to high heat). Throw that chunk of meaty protein in and sear it. In go the chopped onions and sliced tomatoes.
On your plate, lay some spinach and lettuce leaves.
Take out your meaty protein from the pan (leave the veggies behind) and lay it over the greens.
On the pan, add some garlic salt to the veggies and stir. Pour your veggies onto your plate over and around your meaty protein.
Pour some olive oil on top of everything and a bit of balsamic vinegar.
2. Quinoa & Tuna Salad
Ingredients:
1 cup of Quinoa
1 Tuna Can
2 cups of Cherry Tomatoes
1 Avocado
Handful of Lettuce
Handful of Spinach
1/2 Lime
1 tablespoon of Olive Oil
1 pinch of Salt
Bring quinoa and water to a boil in a saucepan. Reduce heat to medium-low. Cover and simmer until the quinoa has absorbed the water and it is tender (it takes about 15 to 20 minutes). Set aside.
Lay the lettuce and spinach leaves on a plate.
Chop the avocado into squares.
Open the tuna can and dump the extra water.
Put the tuna on top of the lettuce. Add the chopped avocado squares and the cherry tomatoes to your salad. Now add the quinoa.
Squeeze half a lime over your salad. Add a pinch of salt and pour a little bit of olive oil over everything.
3. Bacon, Lettuce & Tomato Salad
Ingredients:
1 Strips of Bacon
1 Tomato
1 Hard Boiled Egg
Handful of Lettuce
Handful of Spinach
1 tablespoon of Salad Dressing (pick your favorite)
Cook the bacon. Remove the excess fat with a paper towel. Chop it.
Slice the tomato.
Slice the hard-boiled egg.
Lay the lettuce and spinach leaves on your plate.
Place the tomato and hard-boiled egg slices with the bacon on top of the leaves and add your dressing of choice.
4. Grilled Panela Cheese
Ingredients:
1 Panela Cheese Slice
Cup of Cherry Tomatoes
1/4 Onion
Handful of Spinach
1 pinch of salt
1 pinch of garlic salt
1 pinch of ground pepper
1 tablespoon of Salsa Verde
1 tablespoon of Olive Oil
Panela Cheese is a fresh white cheese that won't melt or lose its shape.
Oil a pan and heat it.
Make sure the pan is oiled well since the tastiest part of this meal is the burnt part of the cheese that, if you fail to oil it well, will end up sticking to the pan, never to be recovered without damaging the nonstick surface of your pan.
Place a thick panela cheese slice on the pan and wait until it gets some color.
While you wait, cut up some onion slices.
Flip the panela cheese slice and wait again.
Now chop some spinach.
Take the panela cheese slice out of the pan and onto a plate.
Put the same pan back into the heat. Throw some cherry tomatoes in there with the onion slices.
When it all seems to be ready, throw the spinach into it and stir. Add salt, pepper and garlic salt to taste.
Pour the mix over your grilled panela cheese slice. Pour a little bit of salsa verde. Pour some olive oil on top of that.
5. We give up. Order pizza.
Don't eat too much! Luckily you can store the leftover pizza in your awesome Popit! container.