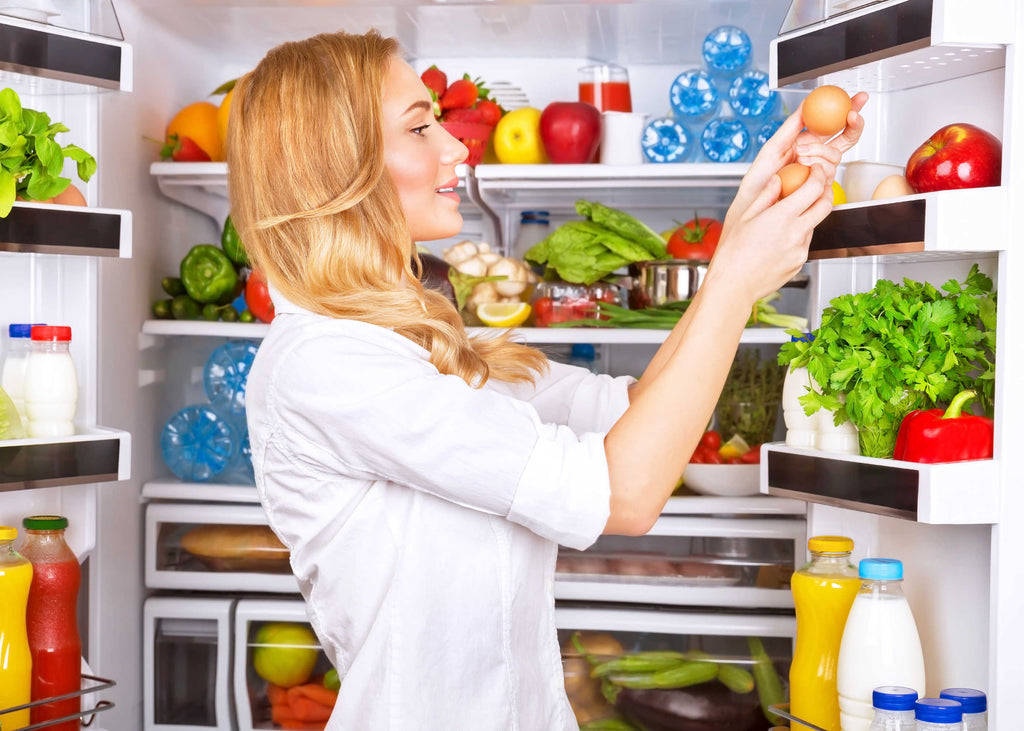 Keeping a clean and organized fridge is vital. Your fridge is a reflection of your soul. Your soul is a reflection of your fridge. You are what you eat and what you eat is in your fridge, alright? We may be exaggerating a bit, but keeping a clean and organized fridge is important nonetheless.
For some people doing this is easy. It comes naturally, but for others... not so much. For those who aren't naturally adept on keeping a fridge clean and organized, we believe that if you follow these 10 Tips for Organizing your Fridge, whatever's left will sort itself out.
1. Milk
The most common fridging mistake is to put milk on the door. The door is the region of your fridge where temperature fluctuates the most and milk is one of the things in the fridge that needs to be kept very constantly cold. Your milk should be on the bottom shelf, at the very back. If it doesn't fit there, put it anywhere at the very back, where it's coldest.
2. Meat
Meat has the same requirements as milk: store it where it's coldest. Therefore, meat should go at the bottom shelf, at the very back of the fridge.
3. Vegetables
Vegetables have their place in the fridge. They're supposed to go in those crisper drawers, that's what they're for. But not all vegetables are the same: some require an escape hatch for the gases they emit (low humidity drawer) and others require moisture to stay crispy (high humidity drawer). Don't mix them up! Your food will last longer. For more information on which vegetables go where visit our friends at thekitchn.com!
4. Leftovers
Keep leftovers in clear glass containers. It's a lot more likely for you to eat them if you see them than if you don't. If you don't they'll go bad. Having things in your fridge go bad is a big no no, and no one likes wasting food. Get our Glass 6+6 Set here! 
5. Use Six Pack Containers
Those carton six pack containers that you toss away once you've drunk the beer can really help you organize door shelves. 
6. Binder Clips for Bags
Clipping bags to shelves is a neat solution if you have these kind of shelves. What's so great about this? That you can see them all at a glance. Knowing what you have in your fridge just by looking at it is a big part of why we're organizing it in the first place. 
7. Ice Cube Trays
It is said that ice cube trays are a thing of the past, but if you do have them and you don't have anything to do with them because you're fridge has an ice maker, this is it: preserve fresh herbs in olive oil. 
8. Lazy Susan
I've asked myself many times how we came to call this item "Lazy Susan", but apparently the explanation of the term Lazy Susan, and who Susan was, has been lost to history. Regardless of how it is called, having one in your fridge can optimize some storage space.
9. Use a Dry Eraser Marker on your Fridge Door
Use your fridge's door to keep an inventory of what's in it. It won't only be easy to keep track of what you need, it will also allow you to stare at it when you're thinking of what to eat without wasting energy or warming the fridge's inner temperature by standing there with the door wide open. 
10. Clean Regularly
I know, this doesn't sound like I'm giving you the insider's tip to fridge keeping, but a lot of people try to mask the smells of their fridge with baking soda or activated carbon. That's not the way to go. That is dirty and will lead to contaminated food and contaminated food leads to falling ill. Nobody wants to fall ill. There's no time for that, so grab that can-do attitude and clean your fridge regularly, specially if there's a smell lingering.